Details

Published: Wednesday, 20 May 2020 11:16
Hits: 83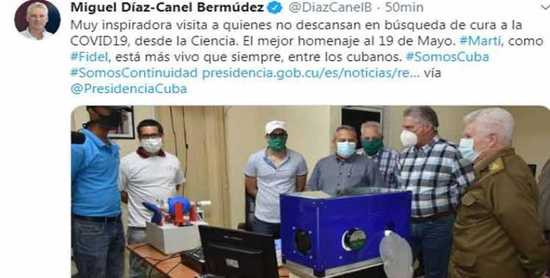 Photo: RHCHavana, May 20.- Cuban President Miguel Díaz-Canel described the recent visits to the Neuroscience Center and the Electronics Group's management as very inspiring, where he learned about the contributions of the national industry in the face of the COVID-19 pandemic.
On his Twitter account, the president highlighted the efforts of "those who do not rest in the search for a cure for COVID-19, from Science," in reference to the exchange he had the day before with Cuban scientists.
Díaz-Canel wrote on that social network that the results of the work of those researchers is the "best homage to May 19th," the day on which the Apostle of Cuban Independence José Martí fell in combat 125 years ago.
He said that Martí, like Fidel Castro, the historic leader of the Revolution, "is more alive than ever among the Cuban people."
During his visit to the Neuroscience Center, Diaz-Canel learned about the strategy to obtain the Cuban vaccine candidate against the new coronavirus SARS CoV-2 and the preventive program of the Covid-19.
He stressed that "in the last few days it is clear that everything we have been assessing, week by week, with the scientists and the group of experts, is becoming more concrete in terms of results."   Díaz-Canel pointed out that the six consecutive days without deaths and the reduction in the number of critical and serious patients is the result of the clinical trials, of the research carried out by the Cuban scientists. (RHC)