Details

Published: Sunday, 12 November 2017 07:32
Hits: 1629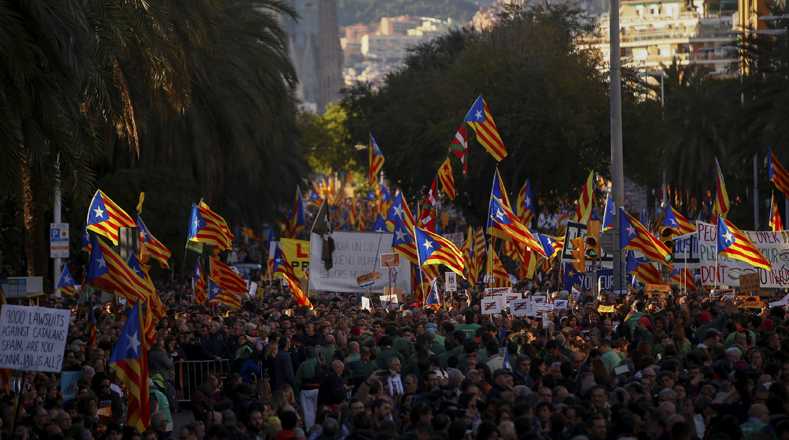 Photo: Cadenagramonte.Barcelona, Spain, Nov 12 .- A massive march traveled through the center of this city to demand the release of a dozen separatist leaders of Catalonia, imprisoned for promoting the unilateral declaration of independence of that Spanish region.
With the slogans Libertad political prisoners and We are Republic, this Saturday tens of thousands of people -750 thousand, according to the Barcelona Urban Guard- took the streets of this city summoned by the civil entities Catalan National Assembly (ANC) and Cultural Òmnium.
These two platforms, promoters in recent years of massive peaceful protests in favor of the secession of that autonomous community of northeastern Spain, demanded the release of their respective presidents and eight members of the dismissed Catalan government.
During the course of the march, which was headed by relatives and friends of the arrested leaders, slogans were heard as Freedom for political prisoners or Enough of humiliation and lies.
Among many stelae (Catalan independence flags), the demonstrators carried banners that read phrases such as SOS Democracy or Fuera los ocupacion forces, alluding to the intervention of the region by the central government of Mariano Rajoy.
At the end of the march, letters were read from all those imprisoned, such as one of former vice president Oriol Junqueras, who called on the public to continue mobilizing to claim independence.
"Our dreams are their nightmares," said Junqueras, referring to the Spanish state.
As part of the investigations opened by the Spanish justice in relation to the separatist process, eight ex-advisors of the regional executive are in unconditional prison without bail since November 2.
Five others, including the deposed president of Catalonia Carles Puigdemont, are under the protection of the Belgian justice system following an international arrest warrant issued by the European country.
In addition, the president of the Catalan Parliament, Carme Forcadell, and four other deputies were released after paying the bonds imposed by the Supreme Court.
All are accused of rebellion, sedition and embezzlement for their presumed responsibility in the sovereignty plan that ended on October 27, when the Legislative Assembly of that prosperous territory of 7.5 million inhabitants proclaimed the Catalan Republic.
After a controversial judicial decision, Jordi Sánchez and Jordi Cuixart, leaders of ANC and Òmnium Cultural, respectively, were also sent to prison on October 16.
In its case, the National Court ordered preventive detention without bail for an alleged crime of sedition, following the protests that preceded the self-determination referendum on October 1, banned by the courts at the request of the Rajoy administration. (Cadenagramonte)