Details

Published: Wednesday, 12 October 2016 04:07
Hits: 3858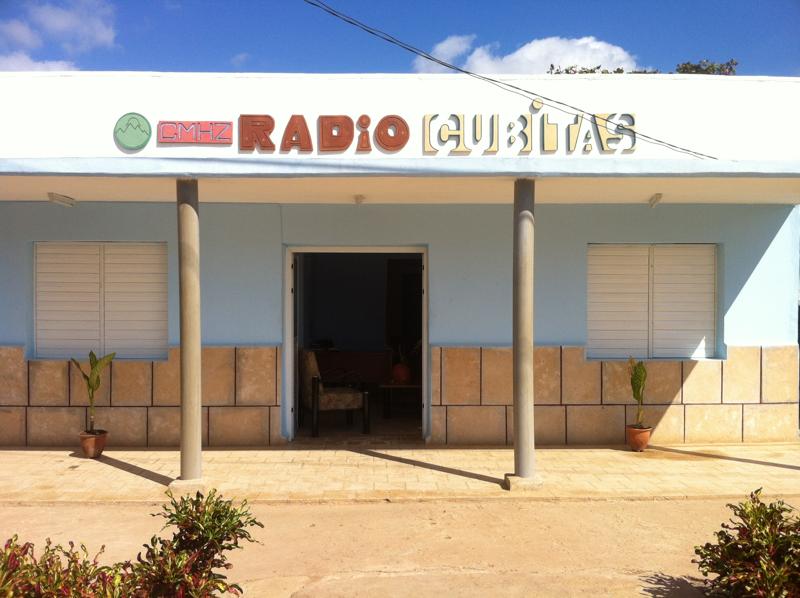 Radio Cubitas Station/Photo: Miguel Ángel Quiroga Acosta
Radio Cubitas is located in the town of Sola in the municipality of Sierra de Cubitas, north of the Province of Camagüey.
It was first aired on June 4, 1981, from that moment on it became a sign of company for the town and especially for young people.
It arose as a result of an agreement established with the Ministry of Education (MINED) and the Cuban Institute of Radio and Television (ICRT), its closest antecedent was the Radio Base Informativa, Tuabaquey of José Martí Higher Pedagogical Institute located in the territory.
The programming of Student Radio Station aired on several schedules according to the characteristics of the schools where study and work were combined in Sierra de Cubitas, to which their emissions were mainly aimed at; their frequency was located at 1460 KHZ of the wave band.
Radio Cubitas  became a recognized place for the training of artistic-technical personnel, so that through the circles of interest of the Radio the students were motivated with the exercise of the radio announcers, program directors, audio technicians and music specialists.
Several awards have been won by Radio Cubitas staff in different editions of Local and National Radio Festivals. Since 1994 this radio station became a Municipal Broadcaster, with a system that develops an intense activity at the time many home radio programs are sent to Radio Cadena Agramonte, its web site as well as  Radio Cubitas´one.
During these years the artists and journalists have participated in other competitive events organized by the National Union of Writers and Artists of Cuba (UNEAC), the Union of Journalists of Cuba (UPEC) and the Hermanos Saiz Cultural Association  (AHS) obtaining positive results.
At present, our radio station has a total of 35 programs, of which 30 are produced locally, in addition to the spaces of Radio Arte, the Provincial and National newscast.
The programming strip is characterized by a high percentage of live spaces, with a total of 24.
Today, only one founder keeps working at Radio Cubitas, Jorge Ochoa Pantoja, as a programs director with a vast experience and knowledge in this artistic labor.